Thailand is arguably the most popular tourist destination in Southeast Asia. There are plenty of scenic areas ranging from the magnificent temples, the glistening beaches on the coast and the unique landscape available around the country. It is difficult to narrow it down to just one most scenic area. So here are a few of the most scenic areas one can tour.
Mae Hong Son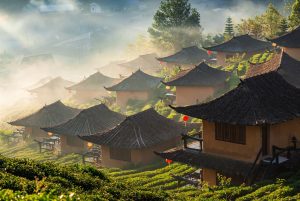 The most beautiful cascading mountains are found in the Mae Hong Son province. The destination is glorious but the journey is amazing as well. If you ride a motorcycle or travel by a car you will be able to make stopovers along the way. Here you will see caves, nature parks, and hot springs among other beautiful scenery.
White Temple Chiang Rai
Thailand is filled with a number of baroque temples. The white Temple of Mai Rai is one such temple. It is characterized by great originality and a contemporary style. It is unique in its own way. It has a unique shape and structural design work not to mention the paintings. It is amazing to see this great Buddhist temple.
Silver Temple Chiang Mai
It was earlier mentioned how Thailand is filled with ornate temples. The silver temple of Chiang Mai is yet another unique architectural beauty. It has a beautiful and exceptional facade with capitals of the world displayed on its exterior. The downside, however, is the no-women-allowed-inside-the-temple policy yet they pay the full price at the entrance. That notwithstanding, it's so unique not to put on this list.
Pai Canyon
The Pai Canyon is the coolest looking scene in the whole country. It is easily accessible by motorbikes. It has a beautiful and unique scenery. These include a lovely countryside and amazing waterfalls. One can even slide down one of the waterfalls. This is for the adrenaline rush lovers. Above all, it is absolutely free!