Thailand is a country with many attractions and activities which will keep you entertained, whether you are a foreign tourist or even a local person. Thailand nightlife is a subject that fascinates people in the country. Some of the spots where you get to enjoy the nightlife include the following.
Pattaya Walking Street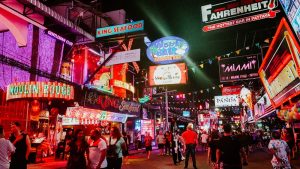 The Pattaya Walking Street is a spot where you get to enjoy the Thailand nightlife. It is an area with many attractive people and neon lights in multiple colours. The highway stretches for a distance of about one kilometre, and it is the busiest and most prominent street in the country. Each building on the street is a bar, massage parlour, restaurant or a night club. The spots on the road are many and cannot be exhausted in a short time.
Full Moon Party, Koh Phangan
Each month when there is a full moon, people come to Koh Phangan to celebrate the night. It is usually full of fun activities such as dancing, alcohol and music. There can be up to 30,000 guests. On these full moon occasions, the bars remain open all night.
Beach Clubs and Sunset Bars, Phuket
This spot is famous for its amazing beach clubs and the sunset bars. You get to enjoy fantastic music at the bars when the sun goes down. The clubs help to make the nights enjoyable by inviting international musicians and DJs. You can also taste some excellent food at these night-time events.
Hard Rock Cafe Foam Party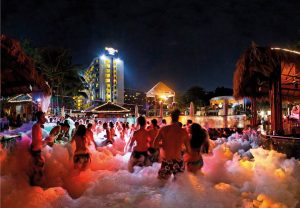 The Hard Rock Café in Thailand hosts exciting foam parties on a Saturday night. They have a huge swimming pool which gets filled with foam. There is good lighting and also entertaining music from the wonderful sound systems. The party takes place every week, and it is a good plan for the night.